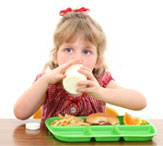 School Lunch Solutions is dedicated to delivering high quality food at the lowest possible price. We accomplish this through volume purchasing, overhead reduction, and private labeling. To ensure the highest quality products for our customers and yours we have achieved a HACCP certification for our warehouse.

At School Lunch Solutions we believe in passing savings on to our customers.

We provide fast and friendly customer service. Your questions will be answered quickly. Our products are guaranteed to meet your satisfaction.

Try our products and experience the value.